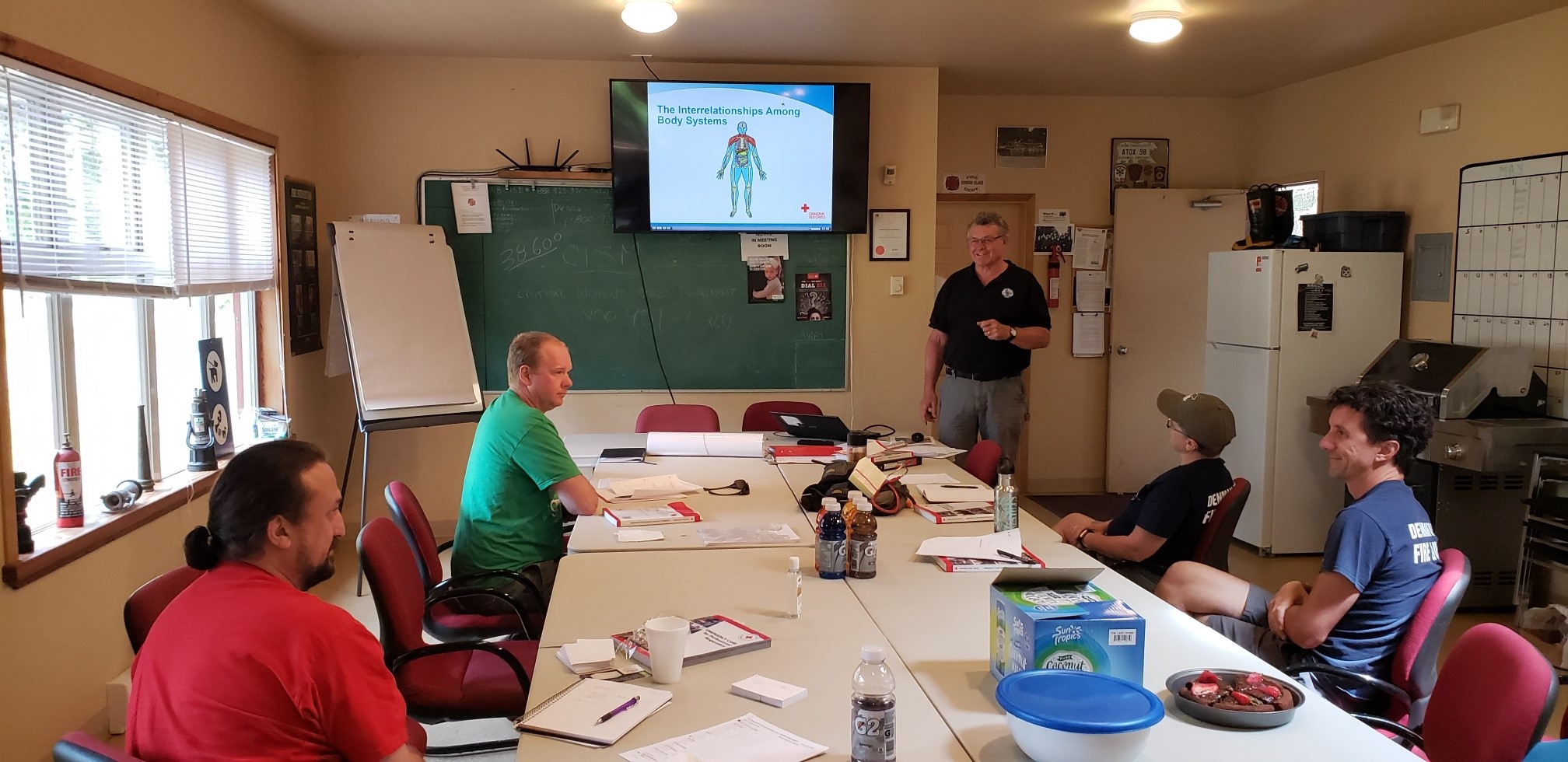 Firefighters Sean Gray, Steve Ireland, Jamie Prowse and Eli Hason are spending 8 hours a day for 5 days getting intensive medical training to become EMA First Responders. Please be sure to thank them for their dedication to the community. Their training could save a life and that life could be yours.
Restrictions on High Risk Activities (Machinery & Industrial Operations) are now in effect if you are working in or near the forest.
High-risk activities include but are not limited to any of the following activities carried out in a wooded or near area: –
operating a power saw;
mechanical tree felling, woody debris piling or tree processing, including de-limbing;
welding;
portable wood chipping, milling, processing or manufacturing;
skidding logs
Other high risk activities listed include: mechanical brushing, disk trenching, use of explosives, using spark or fire producing tools, fireworks, grinding. mechanical land clearing and maintaining right of ways (including grass mowing).
For all of the foregoing "high risk activities", the following restrictions apply at the various Fire Danger Class levels:
MORNING SHIFT NOW IN EFFECT:
HIGH (over 3 days):  After three (3) consecutive days of HIGH cease activity between 1:00 p.m. and sunset each day. Maintain a two-hour fire watch until the fire danger falls to MODERATE for two (2) consecutive days or falls below MODERATE.
ALL OPEN-AIR BURNING EXCEPT CAMPFIRES IS PROHIBITED ON DENMAN ISLAND UNTIL FURTHER NOTICE OR UNTIL THE END OF FIRE SEASON, OCTOBER 15, 2019. THIS INCLUDES, BACKYARD BURNING, BURN BARRELS AND INDUSTRIAL BURN PILES.
FAQ:
Can residents use a chainsaw when not on or near the forest floor or dry grassy area?
Yes
Power saw use on green lawn grass, driveways, landings, roadways, or other non-combustible areas may not be a high risk activity. Chainsaw use in the forest or dry grassy area is a high risk activity and is restricted as above (Morning Shift Only).
Can arborists work during a high-risk activities ban?
Yes
Arborists can continue to use manual tools and tools that don't cause a spark. Power saw use on green lawn areas, driveways, landings, roadways, or other non-combustible areas may not be a high-risk activity. Arborists are encouraged to contact the appropriate agency to discuss the high-risk activities restrictions as they apply to the work to be done.